Get inspired by our tours across Belize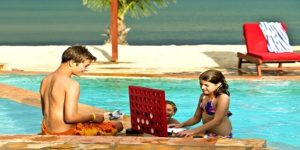 Family trip Belize

Price indication from € 1.550,- p.p.
Your own rental car (4×4)

Boat safari to Lamanai

Discover wildlife

17 days / 16 nights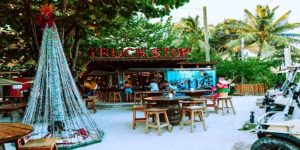 Christmas holidays Belize
Price indication from € 1.850,- p.p.
Your own rental car (4×4)
Discover wildlife
Caribbean islands
Tropical rainforest
14 days / 13 nights
Highlights of Belize
Price indication from € 2.000,- p.p.
Tropical beaches
Maya sites
Pristine rainforests
Colorful underwater world
14 days / 13 nights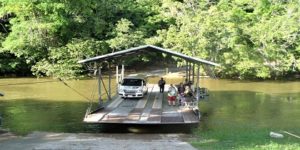 Self drive Belize
Price indication from € 2.200,- p.p.
Your own rental car (4×4)
Idyllic islands
Caribbean villages
Boat safari to Lamanai
17 days / 16 nights
Diving trip Belize
Price indication from € 2.150,- p.p.
Whale sharks
Glover's reef
The Great Blue Hole
Colorful coral reefs
13 days / 12 nights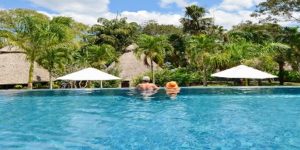 Luxury Belize
Price indication from € 3.300,- p.p.
Luxury lodges
Exclusively & unique
Iydillic islands
Enchanting underwater world
15 days / 14 nights
Belize is located between Guatemala and Mexico and is about half the size of The Netherlands. A tour through Belize means a journey through a country full of diversity. Firstly, you can enjoy the idyllic islands and the azure blue sea on the Caribbean coast. In addition, you can discover the enchanting underwater world and the world-famous Great Blue Hole. Inland, you can discover the pristine rainforests and fascinating secrets of the Mayas. In short, a tropical pearl with a mix of culture and nature.
Photo impression of Belize

Areas in our round trips through Belize
Belize is in terms of surface area about half the size of the Netherlands. The country is divided into six districts. For each district, an explanation follows about the most important places, nature areas and places of interest.
Districts of Belize
Belize District
Corozal District
Orange Walk District
Cayo District
Stann Creek District
Toledo District
1. Belize District
Your trip through Belize usually starts in the Belize District, located in the east of the country. The capital of this district is Belize City, which is also the largest city in the country. This district also includes offshore islands such as Ambergris Caye and Caye Caulker. This district is also home to the Crooked Tree Wildlife Sanctuary, the Belize Zoo and the Mayan ruins of Altun Ha.
Belize City and surroundings
Firstly, you will arrive at Philips SW Goldson International Airport by international flight. The Airport is about a twenty minute drive from Belize City. Belize City is generally not a safe city to stay in. Unico Travel recommends that you immediately travel to Ambergris Caye or Caye Caulker upon arrival. Another option is to spend the night in a small-scale bed and breakfast in a safe neighborhood in the city or in the vicinity of the Airport in a hotel on the river in nature.
Crooked Tree Wildlife Sanctuary
Crooked Tree Wildlife Sanctuary is over 36.000 acres of consists of wetlands, savannas, lagoons and creeks. It is home to several migratory and local bird species. Crooked Tree Wildlife Sanctuary consists of shallow waters important to wetland birds, including the Jabiru Stork, the largest flightless bird in the United States. More than 330 different species of birds live in this area. You can also see iguanas, crocodiles, howler monkeys and turtles.
Ambergris Caye
You can easily travel by water taxi or domestic flight to Ambergris Caye, the largest island in front of the coast of Belize. There is an relaxed Caribbean atmosphere. San Pedro is the only place on the island with many restaurants, bars and shops. Did you know that Madonna's La Isla Bonita is about San Pedro? Bicycles and golf carts are available for rent to explore the island. In addition, from Ambergris Caye you can explore the underwater world of, for example the Great Blue Hole and Hol Chan Marine Reserve. You also have the opportunity to snorkel with nurse sharks at Shark Ray Alley.
Tip! Fly over the Great Blue Hole by private charter for stunning views.
Caye Caulker
Caye Caulker is a small island off the coast of Belize and can be reached by Water taxi from Belize City or Ambergris Caye. The island is known for its laidback atmosphere. The island's motto is 'Go Slow'. First of all, discover the island full of swaying palm trees on a crystal clear sea. Stroll past the colored houses, restaurants and bars. In addition, discover the underwater world of, for example, Shark Ray Alley, Hol Chan Marine Reserve and finally the world-famous Great Blue Hole. Unico Travel recommends that you start your trip relaxed on one of the islands.
Hol Chan Marine Reserve
Hol Chan Marine Reserve is Belize's oldest marine reserve. The reserve is home to more than 160 species of fish, 40 species of coral, 5 species of sponges, 8 species of algae, 2 species of sea grasses, 3 marine mammals and 3 species of sea turtles.
– Fish: a.o. groupers, snappers, barracudas, bull sharks, nurse sharks, butterfly fish, stingrays, sea horses, eagle rays and black tip sharks.
– Turtles: loggerhead turtles, green turtles and loggerhead turtles
– Marine mammals: dolphins and manatees
The reserve covers approximately eight square kilometres and is divided into four zones:
Zone A: Reef
Zone B: Seagrass beds
Zone C: Mangroves
Zone D: Shark Ray Alley
The first zone, Zone A, is just a fifteen minute boat ride from San Pedro and a thirty minute boat ride from Caye Caulker. During the boat trip, keep an eye out for jumping rays and flying fish. Shark Ray Alley is an important place and often visited with tours. Here you have the chance to swim with nurse sharks and stingrays.
2. Corozal District
The Corozal District is located in the far north of Belize. The capital of the district is Corozal. Corozal forms the border between Mexico and Belize and used to be an important place on the Mayan trade route.
Shipstern Nature Reserve
Shipstern Nature Reserve is a conservation area in the Corozal District of northeast Belize. The reserve consist of mangrove forests, tropical dry forests and a coral reef just off the coast. It is a biodiversity hotspot due to the many animal and plant species. More than 300 species of bird live here and you can see monkeys, iguanas and crocodiles. It is also the habitat of the jaguar, manatee and the endangered Central American tapir. Did you know that Burgers' Zoo protects this reserve?
3. Orange Walk District
The Orange Walk District is located in northwestern Belize on is adjacent to the border of Mexico and Guatemala. The capital of the district is the city of the name Orange Walk. The district is mainly known for the Mayan city of Lamanai.
Mayan city Lamanai
Lamanai was formerly inhabited by the Maya. Until now, not everything of this special Mayan city has been discovered. The ruins are scattered in the tropical rainforest where colorful birds fly by and monkeys swing though the trees. Lamanai is quite difficult to reach, so it is still very unspoilt and there are often few tourists.
Boat safari to Lamanai
During your tour through Belize, discover the ancient Mayan city of Lamanai. Just the way to get there is already unique. By boat you will sail for about one and a half hour on the New River, a beautiful boat trip. You sail through swamp plains with the jungle in the background. From the boat you can spot crocodiles, monkeys, iguanas, turtles and tropical birds. Along the way you will also see a Mennonite community.
4. Cayo District
The Cayo District is located in western Belize and borders Guatemala. Two rivers run through the district, namely the Macal and Mopan rivers. The capital of the district is San Ignacio. Also in the district is the capital Belmopan, the Mennonite village Spanish Lookout and the border village Benque Viejo del Carmen. The Cayo District is known for its untouched nature, the ancient Mayan cities and the adventurous activities. Overnight stays in this district should therefore not be missed in your trip through Belize!
San Ignacio
San Ignacio is the most famous place in the Cayo district. During your tour of Belize in San Ignacio, discover the local market. Here, local artisans and farmers from nearby Mennonite villages sell their products. Among other things, food, spices, clothing and souvenirs are being sold.
It is also possible to come face to face with endangered green iguanas at the San Ignacio Resort Hotel. Here iguanas are taken care of and cared for with the aim of releasing the majority back into nature.
Adventurous activities
The Cayo District is known for its adventurous activities. For the more adventurous it is possible to go ziplining, hiking, horseback riding, canoeing, tubing and cave swimming. A unique tour is the ATM (Actun Tunichil Muknal) tour, where you crawl and swim through a cave with a guide and see Mayan remains and offerings.
Mountain Pine Ridge Reserve
An unpaved road leads through the reserve to the Mayan city of Caracol. This is the largest and most impressive Mayan ruins in Belize. The further you drive, the more the tropical rainforest gives you a view of vast pine trees, high mountain cliffs and vast valleys. Discover the cascading waterfalls and mysterious caves with an experienced guide. Spot unique bird species and unique animals like pumas, tapirs, jaguars and kinkajoes. Also visit the lookout point of the 488-meter-high Thousand Foot Falls, the highest waterfall in Central America. If you want to swim at a waterfall, Unico Travel recommends going to Big Rock Falls, for example.
Mayan cities
The Maya cities are often known mainly from Guatemala and Mexico, but Belize was also an important country for the Maya in the past. In the country you will find numerous Mayan cities and ruins, including in the Cayo district. Located in the Mountain Pine Ridge Reserve, Caracol is the most remote Mayan city. You reach the ruins via a dirt road. It is the most impressive Mayan city. A few minutes' walk from the center of San Ignacio, discover the Mayan city of Cahal Pech.
Near the border with Guatemala you will find the Mayan city of Xunantunich. The way to get there is very nice. You cross the river by ferry to visit the ruins. You can climb a number of temples and hear only the sounds of howler monkeys and tropical birds in the background. Being the only tourist at the top of a Mayan temple, a unique experience in your tour of Belize.
Other activities
At the Belize Botanic Gardens, you will learn all about the country's flowers, plants, and trees. Also discover Belize's countless butterfly species at a local butterfly farm. Take an evening walk and look for animals that come to life in the dark!
Staying the night in the Cayo District
There are several accommodation options. You can choose to spend the night in San Ignacio, but it is much more fun to spend the night in the nearby jungle on the Macal River. Here you will find several ecolodges where you can also experience many activities such as tubing, kayaking and hiking.
5. Stann Creek District
The Stann Creek District is located in eastern Belize on the Caribbean Sea. The capital is Dangriga. On the coast are several small towns and fishing villages, each with their own character, such as Hopkins and Placencia. These places often act as a starting point to discover the beautiful cayes in the barrier reef. Further inland, discover untouched nature with waterfalls, mountains and rainforests. A visit to this area is one of the highlights of your tour of Belize.
Hopkins
Hopkins is a small and authentic village and consists of only one dirt road that runs parallel to the beach. There is a cozy laidback atmosphere and it is not touristy at all. The village is considered the cultural center for the Garifuna culture. Take a drum lesson, rent a SUP board or go kayaking and fishing. There are also various diving and snorkeling tours that you can take and it is recommended to walk in the Cockscomb Basin Wildlife Sanctuary.
Placencia
The Placencia Peninsula is located in southeastern Belize. Firstly, it is a nice place to relax and enjoy the sandy beaches at the end of your tour through Belize. Stroll along the colorful Caribbean footpath past the shops, stalls, restaurants and bars. Secondly, Placencia is the ideal place to discover the underwater world of Belize. Discover beautiful places such as South Water Caye and Silk Cayes. Finally, from Placencia, you can also take a day trip to the Cockscomb Basin Wildlife Sanctuary or the Monkey River. In Placencia you spend the night in a luxurious villa or a beach house.
Mayflower Bocawina National Park
In the south of the Stann Creek district is the Mayflower Bocawina National Park. In the park you can take beautiful walks along various Mayan sites and waterfalls. You can also zipline and abseil down a waterfall.
Cockscomb Basin Wildlife Sanctuary
Cockscomb Basin Wildlife Sanctuary is the only official jaguar sanctuary in the world. Take a walk through the jungle past colorful flowers such as orchids and bromeliads. Also discover the waterfalls and go tubing. Along the way you have the chance to see tropical birds and howler monkeys and with luck a tapir. The chance of actually spotting a jaguar is quite small, because these animals are mainly active at night. You can, however, look for traces of these impressive animals together with a guide.
6. Toledo District
The Toledo District is located in the south of Belize on the Caribbean Sea and the border with Guatemala. It is one of the least visited districts of Belize. You will find pristine rainforests and rivers. The capital is the Punta Gorda.
Culture
Unique to the area is the richness of cultures. It is the home of the Garifuna culture. In addition, you will also find the Mayan culture here. Visit a cocoa farm and learn how chocolate is made. Cocoa is important within the Mayan culture. Also visit a Kek'chi Maya family where you can see how the Maya used to live and how they live today. Also discover the Mayan settlements of Lubaantun and Nim Li Punit.
Punta Gorda
Punta Gorda is a relaxed Caribbean fishing village. Visit the local market and see the fishermen with their freshly caught fish. Punta Gorda is the ideal base to discover the nearby nature.
Rio Blanco National Park
Rio Blanco National Park is a protected nature reserve with lots of flora and fauna. The park consists of mountainous rainforests. In the park you will also find the Rio Blanco Falls waterfalls, which are thirty meters wide and six meters high.
Caves
In the Toledo district there are several caves that you can walk through with a guide. Discover for example the Hokeb Ha Cave, Tiger Cave and Laguna Cave.
Monkey River
From Punta Gorda or Placencia it is recommended to take a boat trip on the Monkey River. Spot tropical birds, butterflies, crocodiles, iguanas, howler monkeys and with luck even manatees along the way! A fun experience during your trip through Belize!
Public transfer during your trip through Belize
Transport in Belize is very diverse. During a tour through Belize you often travel with different means of transport.
Public transport
The cheapest way to travel in Belize is by bus. There are different types of buses. There are American school buses and more luxurious buses. Unico Travel advises against travelling by bus. It is much more comfortable, safer and faster to travel by private transfers or rental car.
Water Taxis
It is nice to start your trip of Belize at Ambergris Caye or Caye Caulker. These islands can be reached from Belize City by water taxi. It is about 45 minutes by boat to Caye Caulker and an hour and a half to Ambergris Caye. They are covered water taxis.
Private transfers
Unico Travel often organizes private transfers for many travellers. The advantage of private transfers is that you will receive a lot of explanation from the driver along the way. The driver also knows nice restaurants and places of interest to make stops along the way. The driver knows the roads like no other and you can fully enjoy the journey.
Domestic flights
In Belize, many domestic flights are used. It is an easy and fast way to travel to a new area. Unico Travel often chooses to fly from the south of Belize to the international airport in one go. This saves a lot of time and is also a nice way to see Belize. There are also flights to the islands flying over the azure sea and various cayes.
The international airports of Belize are: Belize City Philip SW Goldson International Airport and Belize City Municipal Airport. Local airports can be found in Belize City, Caye Caulker, San Pedro, Corozal, Dangriga, Placencia and Punta Gorda.
Bicycles, golf carts and taxi's
In many places in Belize it is recommended to explore the area with a golf cart, such as on the islands of Ambergris Caye and Caye Caulker. You can also often rent bicycles on site and of course take taxi's.
Driving in Belize
Renting a car offers a lot of added value during a trip through Belize. With your rental car you can reach places where public transport is not possible. You will also save a lot of money by going out with your own rental car instead of an organized tour.
Roads in Belize
Driving a car itself is quite easy. There are a number of paved main roads that lead you north, west and south. In addition to these paved roads, there are also unpaved roads. These roads are mainly found inland in nature, around the villages and lodges. You therefore need a 4×4 rental car for the unpaved roads.
Eating and Drinking in Belize
Eating in Belize
The food in Belize is a combination of Latin American and Caribbean dishes. Beans and rice are often the main ingredients of a meal. In addition, the various fresh fish dishes are certainly worth trying. Lobster is very popular in Belize (and cheap).
It is also nice to enjoy a barbecue on the beach or on one of the many islands after a day of snorkelling or diving.
Examples of dishes in Belize
Rice & Beans (rice and beans)
Stew Chicken (spiced chicken with rice, beans and potatoes)
Ceviche (fish and seafood marinated in lime juice)
Tamales (corn dough stuffed with spiced meat in banana leaves)
Drinks in Belize

A lot of fresh fruit juices are drunk in Belize. Furthermore, Belikin beer is very popular. This is beer brewed in Belize. In addition, there are also locally brewed brands of rum such as One Barrel and Travelers rum.
If you book your trip through Belize with Unico Travel, you will receive restaurant tips per place. We also tell you where you should definitely make a stop along the way.
Luxury & exclusive destination
Belize is first and foremost one of the most luxurious destinations in Latin America. Via a special travel route you will spend the night on idyllic islands, in pristine rainforests, close to Mayan ruins and on tropical beaches. Spend the night in comfortable villas, attractive ecolodges and luxurious beach houses..
In addition, Belize is still relatively unknown as a holiday destination, while the country offers countless opportunities. It is therefore a fairly small country with short travel distances. This means you don't have to travel every day and you can enjoy your tour through Belize carefree. From Mayan ruins and pristine rainforests to pearly white beaches and a beautiful underwater world. Also discover our honeymoon to Belize.
Unique experiences in Belize
Overnight stay on a private island
Sailing tour of islands and coral reefs
Helicopter flight over the Great Blue Hole
Tour Belize with children
Belize is the ideal destination for families. Firstly, the travel distances are quite short due to the small area of ​​the country. The areas are also very diverse. For example, start on a tropical island and then explore the interior. Then, end the trip at the beach on the Caribbean coast. There are also many activities to experience in Belize, such as ziplining, jeep safaris, horseback riding, tubing and snorkelling.
Unico Travel also always selects accommodations that are suitable for families, such as ecolodges with a swimming pool and family bungalows. The transport during a tour of Belize is always diverse, as you can travel to the destinations by boat, water taxi, rental car or private transfer.
Ancient Mayan Cities
Many travellers only know Mayan cities in Mexico and Guatemala, but Belize also has a rich Mayan history. Firstly, spend the night close to the Mayan ruins of Lamanai or at Chan Chich Lodge. Unique to Chan Chich Lodge is its location in the middle of a Mayan ruin. All the hills around the lodge are ancient temples. In addition, you will find a number of important ruins in Belize such as Caracol, Xunantunich and Cahal Pech.
Tropical paradise
Idyllic beaches, paradisiacal islands and an azure blue sea often think of the Maldives and the Caribbean, but don't forget Belize either. The country has countless cayes with swaying palm trees, pearly white sandy beaches and a turquoise sea. Belize is the ideal destination to relax and enjoy the beach or pool.
Barrier reef
Belize has the second largest barrier reef in the world after Australia. The barrier reef is therefore on the UNESCO World Heritage List. Discover the many cayes and the enchanting underwater world. Swim among the colorful coral and countless tropical fish. Spot whale sharks, manta rays, dolphins, rays, seahorses, sea turtles and manatees. Belize is one of the most beautiful diving destinations in the world.
Culture
Belize has a rich culture. First of all, you will find the Creole culture (descendants of the African slaves). The Creoles make up about thirty percent of the population. In addition, there are also several Mayan groups. The Maya are split into Yucatec, Mopan and Kekchi descendants and are the original inhabitants of Belize.
Mennonites also live in Belize. It is possible to visit this community. Contact us for more information.
Heidy and Malaika travelled through Unico Travel and visited this community. "We were picked up by horse and carriage, after which we went there for lunch with a family and were given a tour of the village. It was like going back in our time."
The Great Blue Hole
The Great Blue Hole is located off the coast of Belize and near the Lighthouse Reef. This underwater cave has a diameter of about 300 meters and a depth of 124 meters. It looks impressive from the air. The underwater cave has azure water on the edge and dark blue water in the middle. Millions of years ago this underwater cave was a limestone cave with tunnels, but around the ice age the ceiling collapsed. Subsequently, the sea level rose and this cave was created. It is a unique natural phenomenon and therefore included in the UNESCO World Heritage List.
Wildlife
Belize is the ideal destination for spotting wildlife. Numerous species of birds, mammals and fish live in the country. First of all, discover the enchanting underwater world with rays, sharks, sea turtles, seahorses, manatees, dolphins, and countless tropical fish. Also spot numerous bird species such as toucans, aracaris, hummingbirds and harpies. In the rainforest you can see howler monkeys swing by and iguanas perched high in the trees. Spot crocodiles along the banks on a boat tour.
Combine your trip through Belize with Guatemala
Discover two destinations in one trip! A trip through Belize can be perfectly combined with Guatemala. First of all, discover the nature and culture of Guatemala. For example, start in Antigua, then travel to Lake Atitlán and fly to Flores to discover the Mayan city of Tikal. Then cross the border and spend the night in the jungle of Belize.
Combine your trip of Belize with Mexico and Guatemala
Discover three destinations in one trip! Discover the ancient history of the Mayans and Zapotecs in Mexico, walk through authentic villages and past meter-high waterfalls. In Guatemala you will discover the impressive Mayan city of Tikal and in Belize you will end your tour at a pearly white sandy beach.
Why travel through Belize with Unico Travel?
Unico Travel thinks along with you while putting together a unique tour through Belize. Every person is different and therefore every journey. Whether you like diving, birding or photography and whether you are travelling with your partner or family, Unico Travel will tailor your trip accordingly. With more than ten years of experience, we know exactly which areas and hotels suit you. In addition, we have visited each country ourselves and we know the most unique places. Unico Travel puts together a tailor-made trip. You will find various sample trips on our website for inspiration, but no trip we organize is the same.
Personal contact
More than ten years of experience
Unique and special places
Small-scale lodges and boutique hotels
Extra information and tips about our round trips through Belize